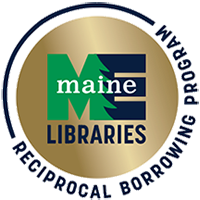 Please note:

The MRBP will resume the program on July 1, 2021 with 47 of the 68 libraries.

Please check the list of current participating libraries. More libraries will be resuming the program in the coming months.
Maine Reciprocal Borrowing Program
The Maine Reciprocal Borrowing Program allows anyone with a valid library card from one of 68 participating libraries to visit any of the other participating libraries and check out materials in person. It's referred to as "walk-in" borrowing because it essentially turns your local library card into a "statewide" library card!
The program launched in September 2019 as a one year pilot test. Following review of the pilot in August 2020 and incorporating any needed changes, the Maine State Library hopes the program will be formalized and grow over time. Not all libraries in Maine are eligible to participate at this time because the computer systems currently required to allow participation are not used by all libraries. The Maine State Library and Maine InfoNet are continuously seeking ways to increase participation by finding solutions that eliminate these systematic and technical barriers.
Information on the Maine Reciprocal Borrowing Program